Fire Damage Specialists in Liverpool
By: | Posted: | Insurance Specialists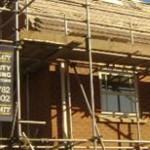 Fire damage specialists in Liverpool understand too well the radical effects of a fire sweeping through a home or office. Fire damage can be alarming and devastating, destroying personal possessions in an instant which took a lifetime to accumulate. In the end you have to contend with the fire and smoke damage as well as the harm caused by the water used to extinguish the fire. S.A. Platt are a family run business with decades of experience as fire damage specialists. All work conducted by this skilled, trained team is guaranteed. As leading property damage restoration experts, S.A Platt has an insurance repair division and as a team they are highly experienced in all forms of building claims such as malicious damage as well as fire and flood.
In Liverpool, fire damage specialists come to your fire damaged property, and with their experienced team of surveyors, they access the claim, prepare an estimate, and prepare the claim in keeping with the requirements of the different insurance companies. Everything to do with claims is accurate and on record, because the S.A. Platt team has a computerised management and project tracking system, and this ensures that information regarding claims is always up to date and available.
Fire damage specialists in Liverpool offer their sought after services in a large area, covering most of central England, and because of their professionalism, are the preferred contractor to most major loss adjusters. Many of their customers are leading insurers such as Churchill, Norwich Union, Barclays and others. These customers rely on them for their skills and expertise to cost effectively respond in your hour of need. As a leading reputable building company, their competent team is able to completely restore your burned property back to its original state. For leading fire damage specialists, contact S.A. Platt.