Home Insurance Specialist In Wilmslow
By: | Posted: | Insurance Specialists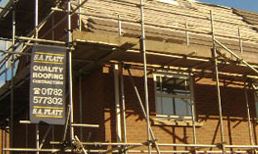 When you require a Home Insurance Specialist In Wilmslow, you can rely on the expertise that S.A. Platt Quality Builders Ltd possess. Highly respected, they have been providing emergency insurance repair for domestic homeowners for well over 20 years, in which time their reputation has continued to soar.
From Wilmslow to Warrington, when you need a home insurance specialist for essential building work-caused by fire, flood, malicious damage and so on-S.A. Platt are the preferred choice. Registered with all major well-known companies, they Insurance Repair Division is experienced in every aspect relating to building projects.
As a home insurance specialist in Wilmslow, S.A Platt employ their own highly qualified and experienced surveyors who can assess, prepare an estimate and manage the claim to suit different insurance companies' requirements. Focusing on a fast, efficient service, it's the aim of S.A. Platt to provide a service that eradicates the initial disruption caused by damage to your property through prompt, thorough insurance repair that is finished on-time and to the highest standards possible.
S.A Platt are Safe Contractor, Chas approved and Gas Safe Registered. Call now on 01782 717 617 for a consultation and quotation.