Expert Fire Damage Specialists in Manchester
By: | Posted: | Builders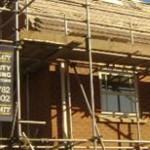 Fire damage specialists in Manchester need to be called for a restoration job after a fire.Restoration work or a rebuild will need to begin as soon as possible.  Who better to call than a fire damage specialist?  S.A. Platt not only builds quality buildings, they are also well known as fire damage specialists. First established over 20 years ago, they have continued their excellent high standard of professional work in many projects.  Projects that include new builds, extensions, alterations, loft conversions, and the list goes on.  They are a family run business, and their expert craftsmen are all fully qualified and directly employed.
In Manchester, fire damage specialists can be found at S.A. Platt, an insurance company preferred contractor.  They have on their team an experienced group of surveyors who can access the claim, prepare an estimate and manage the claim to suit different insurance companies' requirements. They provide written damage evaluations and restoration cost analysis, specially prepared to the insurance agency's specifications.
Fire damage specialists in Manchester from S.A. Platt can be relied on for competent, honest work.  They take great pride in excellent customer care and attention to detail. All projects undertaken are audited during and after works to ensure an excellent quality of works and complete customer satisfaction. If your building has been damaged by fire and restoration is needed, consider the services of S.A. Platt.  With their attention to detail and quality workmanship, they are known as one of Staffordshire's and Cheshire's leading building companies.  Wouldn't you insist on this level of professionalism for your building work?  If you have recently experienced a devastating fire, and need more information about fire damage specialists, contact S.A Platt.