Flood Damage Properties in Llandudno
By: | Posted: | Flood Damage Properties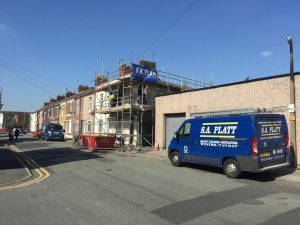 You may be searching for a company that specialises in flood damage properties in Llandudno if your home has recently suffered extensive flood damage. When it rains heavily or snow melts quickly, the risk of flood damage increases. Water can cause a large amount of  money's worth of damage by damaging wood furniture, upholstery, electronics, household appliances, plumbing equipment, as well as the building itself. Water damage also increases the risk of mould growth, which can be a very expensive problem to sort out.
In Llandudno, flood damage properties can be assessed and renovated by a reputable building company. S.A. Platt is a family run business with years of experience, including experience as flood damage specialists. All work conducted by them is guaranteed. As leading property damage restoration experts, S.A Platt has an insurance repair division and as a team they are highly experienced in all forms of building claims such as malicious damage as well as damage caused by fire and flood. When your home has been damaged by flood, contact S.A. Platt. They will visit your flood damaged property, their experienced team of surveyors will access the claim, prepare an estimate, and prepare the claim in keeping with the requirements of the different insurance companies.  As they have a computerised management and project tracking system, everything to do with claims is accurate and on record. This ensures that information regarding claims is always up to date and available.
S.A. Platt can professionally assist with flood damage properties in Llandudno. The water restoration process is an important one. By using the right procedures and materials, S.A. Platt can assist in saving cherished belongings and help prevent homes from being condemned. S.A. Platt specialises in mitigating the effects of water, but the success of this depends on the severity of the damage and the amount of water that caused the damage. Having been an important part of the building industry for over 20 years, S.A. Platt has the fully trained staff to assist with and rebuild flood-damaged properties. You can give them a ring for a consultation and free quotation. If you require more information about specialists to assist with flood damage properties, contact S.A. Platt today.