Thermal Drying in Shrewsbury
By: | Posted: | Drying Flooded Properties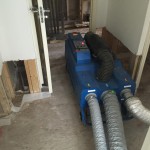 Do you need more information about thermal drying in Shrewsbury? Given the perennially damp conditions prevalent in the UK, most builders face innumerable problems during construction, while building owners may face issues of dampness and seepage after occupation. To combat these issues, modern construction techniques have begun to incorporate drying techniques on the construction site itself as a standard practice. Moisture problems usually involve concrete slabs emitting water, surface wetness during floor installation, continued wetness of drywall taping and mudding and all this leads to microbial and fungal growth. As health hazard, continuous damp and moisture lead to chronic respiratory illnesses, arthritis, sinus and skin problems. Damp patches can ruin the look of your interiors, damage your valuable artworks and furniture and harm your children and pets.
In Shrewsbury, thermal drying services are provided by leading builders and construction specialists. When undertaken at the right time, using the right equipment by skilled and trained staff, drying services provide several long-term benefits. Thermal drying helps mud and other natural materials to dry thoroughly, helps in ground thawing ahead of pouring concrete, speeds up the curing process of concrete and prevents further moisture from accumulating in concrete floors. Other great advantages are that it prevents microbial growth and contamination of the HVAC system before the occupants move in. By using a drying service, the builder is able to keep to schedule, as it helps in speeding up other works like quick drying of fire-proof spraying, mill and woodwork. Reputed companies like SA Platt use state-of-the-art techniques and technology to provide customer satisfaction and meet deadlines.
A combination of equipment is generally used when you opt for thermal drying in Shrewsbury. Refrigerant dehumidifiers work on the principle of condensation and involve a high airflow with temperature and humidity controls. Desiccant dehumidifiers use low vapor pressure to draw out the moisture from the surrounding air and the materials. This method is more efficient though more expensive than the former. In general, thermal drying uses heat for removing dampness from floor-covering, insulation, plaster/paint, masonry, building exteriors, and wooden floors. and ensure the health and longevity of your building and its occupants. For more information about thermal drying, contact SA Platt.