Drying Flooded Properties In Shrewsbury
By: | Posted: | Drying Flooded Properties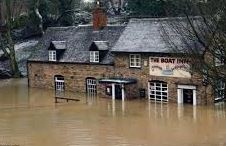 If you are looking for a building company for Drying Flooded Properties In Shrewsbury, S.A. Platt Quality Builders Limited are one of the leading specialists in the region. Established over 20 years ago, they have worked within the domestic and commercial building sector as a well-respected insurance work specialist.
In Shrewsbury, a great deal of households and business premises suffer from the effects of flood damage. Drying flooded properties effectively and swiftly is imperative in order to lessen the devastation that is caused. Similarly having the property fully investigated for flood damage must be carried out by a registered insurance work repair specialist like S.A. Platt, whose Insurance Repair Division provide a prompt and efficient service.
The team at S.A.Platt will oversee the process of drying flooded properties in Shrewsbury while also liaising with the customer's insurance company on your behalf. Using a state of the art drying machine-Drymatic by DBK-which continually evaluates the temperature and humidity of the flooded room(s), the Drymatic operates in a mode that provides maximum drying effect; essentially a 'thermal drying system', which is faster, effective and more reliable than conventional drying processes.