Where Do You Look For a Home Extension Service in Trentham
By: | Posted: | Builders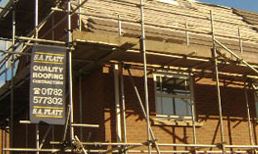 If you're looking for a home extension service in Trentham, the one thing you really cannot ignore is the professionalism of the company you're hiring. Choosing the right company for the job can be the difference between a beautiful home and one that looks like it's been hastily put together. From the planning and design phase to the actual execution of the project, each phase requires precision and the highest quality workmanship and material to get the project completed perfectly.
In Trentham, looking for a home extension service should be effortless if you know who to contact. You need a company that will provide a service that meets your particular needs, competitive quotes and a skilled team. In other words, you are looking for a 'one stop' contractor. Consider contacting S.A. Platt for your home extension build. They have many years in the building trade and pride themselves on delivering an excellent service at costs designed to suit your budget.
When you are looking for a home extension service in Trentham, you should consider all the aspects of the extension on your home you require. After you contact the expert team at S.A. Platt, you will receive a consultation and a no obligation quotation. This will help you plan your budget for the extension you require. They have been established for over 20 years and employ fully qualified craftsmen so you know you will be getting an expert build. Regardless if your home extension is a small project requiring a wall removed to enlarge a room, or a much bigger one where a new room is added, S.A. Platt will provide a quotation for the work to be done. They have an excellent reputation for quality, craftsmanship and trust which why they are one of Staffordshire and Cheshire's leading building companies. If you require more information about a home extension, contact S.A. Platt today.