Interested in a New Build Development in Market Drayton?
By: | Posted: | Builders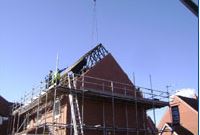 Are you interested in a new build development in Market Drayton? Are you looking for a building contractor? We at S.A. Platt would be happy to be of assistance to you. We have been in the business for about 20 years and we have built a stellar reputation in the UK. All of our craftsmen are fully qualified, we use the best materials and it is no surprise that we have the highest ratings possible. Whether you are planning to start the construction of a new housing estate, a governmental office, commercial premises, whatever the task, we are the right company.
In Market Drayton, when you start a new build development, you will most probably want a company that can undertake the majority of works starting from the foundational aspect to tiling and wall painting. You can expect the highest quality of craftsmanship. Our workers are all qualified and they are employed directly by us. Not only will we help you during the erection of the new building but we will also help you after its completion. As a company, we want to make sure that our clients are completely satisfied and happy with the outcome. Another detail which has become quite important these days in all of the constructions that we undertake, they are all computer programmed. In other words, not only will you have a 2D plan but you will also have a 3D-generated model so that you can have an image of the outcome before the first brick is even laid.
If you need a company for a new build development in Market Drayton, look no further, we would be delighted to sit with you and discuss any plans that you might have. And following our meeting, we will provide you with an estimate regarding the services that we can bring to your plans. For reassurance, we are proud to inform you that we partner with Housing Associations so that both parties can have peace of mind. For more information about new build developments, contact us at S.A. Platt today.