The Best House Extensions in Alderley Edge
By: | Posted: | Builders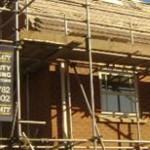 For the best house extensions in Alderley Edge, it is best to get in touch with professionals.In recent surveys, the Royal Institute of Chartered Surveyors (RICS) revealed there is an increase in the number of homeowners who decide to extend some spaces inside their homes compared to those who opt to buy a new house to live in. Among the most apparent reasons of this change is excellent use of space and economic advantage. So, if you think you'd like to stay in the same locality and prefer to keep the kids in the same school, it is worth investing to extend some relevant areas of your home to improve access and accommodation.
In Alderley Edge, the best house extensions are managed and provided by S.A. Platt Quality Builders. They have a professional team that has a long standing history in the building trade capable of managing all projects including house estimating, quantity surveying and safe building. S.A. Platt possesses a highly professional management comprised of surveyors, site managers, in-house health and safety officer and external advisor on health and safety. They carry out a wide range, so you can expect that no matter how small, large or complicated your project is, they will show up right on time and complete the job within an agreed time scale. Over the years, the company has gained a top notch reputation among its large pool of customers which include local authorities, architects and health authorities.
If you think your home isn't big enough for your needs, the best house extensions in Alderley Edge can be done by S.A. Platt. The company is a one-stop shop contractor known for its enviable reputation for trust, workmanship and quality. Their team of craftsmen are well trained and experienced in various types of extensions.  They can also provide you with useful tips or advice on an extension you require, including quality of style, feel and design, as well as cost and labour. So, if you are looking for fully qualified and directly employed craftsmen, S.A. Platt can assist you.  For the best house extensions, contact S.A. Platt.