Need a Contractor for a New Build Development in Macclesfield?
By: | Posted: | Builders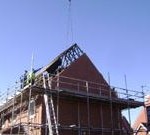 A contractor who specialises in new build development in Macclesfield is needed if you are thinking about starting work on your dream cottage.The prospect of seeing your cottage built before your very eyes is an exciting event, however you need to hire a contractor with expertise and experience in order to make this happen. There are many slipshod contractors out there, who make outrageous claims about their abilities. You most definitely do not want such a contractor working on your dream cottage! To start, make sure they have necessary memberships like Corgi, Ukas and Contractors Health and Safety Assessment Scheme. Next, speak to live references who have used this particular contractor before. Ask these references questions about workmanship, delivery on promises and professionalism. Finally, speak directly to the contractor. Keep a list of prepared questions. Ensure they are all answered to your satisfaction. If something sounds fishy or too good to be true, then it probably is! Interview at least three different contractors before settling for one.
In Macclesfield, new build development projects are expertly done by S. A. Platt. When you speak to previous customers or have a look at their work, you will immediately notice the quality of their workmanship. Their new build division uses a flexible approach with all customers, ensuring that the customer's expectations and requirements in terms of needs and designs are always met. At S. A. Platt they also design properties with energy efficiency and security measures in mind. Interaction with the customer does not end with the signing of the contract. Customer care and providing after sales service remain top priorities. All projects are computer programmed from start to finish, so customers can monitor the project's status at all times.
If you are considering a new build development in Macclesfield, then give S. A. Platt a call today. They also specialise in extensions, alterations, disability adaptation and conservatories. Having been in the business for more than 20 years now, S. A. Platt continues to build its reputation based on craftsmanship, quality and professionalism. If you are looking for a contractor who specialises in new build development, contact S. A. Platt.