How to Choose Quality Builders in Congleton
By: | Posted: | Builders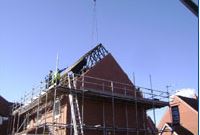 Looking to hire the services of quality builders in Congleton? Selecting the right builder can make or break a job! Building work is a long-term investment and it's a good idea to take time to compare services and rates before the hiring process. Moreover, building jobs will usually take place inside your house or in your patio or garden area. Therefore, it's extremely important to select a builder who is able to guarantee quality and punctuality; hiring a cheap builder can result in poor workmanship, unnecessary delays and over-budget issues.  You may even have to spend extra money on a dreaded repeat job! Where can you hire an efficient builder in Congleton? Read on for some important tips on how to choose the most suitable builder to get your job done.
Customers in Congleton seeking quality builders can contact S.A. Platt for options and prices. What you're ideally looking for is a builder who can offer an appealing combination of affordability and quality. Builders who offer extra-cheap prices often turn out to be more expensive in the long run! They may have used sub-standard materials or inexperienced workmen to cut corners. Fortunately, S.A. Platt bring no less than 20 years of intensive building experience! They are a reliable and established company and they are proud to offer their best building services for every customer! Whether you want a loft conversion, new building, extensions or roofing works, feel free to contact the friendly staff members at S.A. Platt.
While choosing quality builders in Congleton, make sure you select a company that is legally certified and licensed. Firstly, compare rates across two to three top builders in your area. While money is certainly an important factor in your decision, it should not be the only reason for your choice. Remember that you always get whatever you are willing to pay for! Also ensure that you request the builder to give you a clear breakdown of costs before commencing the job. Contact S.A. Platt to get more information on quality builders.