Top Quality House Renovations in Knutsford
By: | Posted: | Builders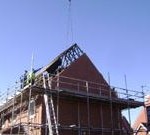 If you're considering house renovations in Knutsford, use a team that can come up with great ideas to give you the home you've dreamed of.An innovative new design for your bathroom, built in cupboards for a spare room, new windows, loft conversions, a new roof – the solution to irresistible renovations for your home lies with S.A. Platt. This skilled and experienced team offer you a virtually limitless number of ideas, colours and designs for your home. They were established over 2o years ago and their qualified craftsmen have a trusted reputation of excellence. No home renovation job is too small or too big for them and they will offer you a free, no obligation quote for the work you are interested in. They are well skilled in colour effects, texture and patterns to ensure your home is a place of beauty, comfort and style.
For Knutsford house renovations, as one of Staffordshire's and Cheshire's leading building companies, the team at S.A. Platt assesses the character and style of your home before embarking on any renovations. Even though they are modernising your home, some clients want to retain the Victorian feel of their home. This is why it is important to seek the experience, skills and opinions of an experienced builder. The S.A. Platt team keeps their clients updated on a regular basis on the progress of their building project, working to keep within budget and to the deadline. All their tradesmen are fully qualified and directly employed, ensuring high quality service to the client.
House renovations in Knutsford are affordable with S.A. Platt, who have a team of reliable and professional artisans and their role is to ensure that the entire house renovation project is run according to schedule. Wall and floor tiling, plumbing and heating, loft conversions, new builds, extensions, alterations and conservatories – if home renovations leave you hot under the collar, why not investigate what S.A. Platt can do for your home. They don't promise things they can't deliver. Before you commit yourself to house renovations, contact S.A. Platt, you'll be glad you made the right choice.