Professional New Build Development in Crewe
By: | Posted: | Builders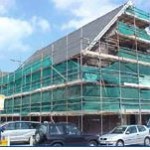 Do you need a company to help you out with a new build development in Crewe? With S.A. Platt, you will not have to worry about a single thing The company can undertake any work ranging from designing it to building and painting it. Once it's in their hands, they will do a complete job that will leave you satisfied. They have completed a number of projects in the past, and if you are interested, you can go through their portfolios to see the types of works that they have completed. S.A. Platt is on the way to become one of the most trusted leading building companies in Stafford and Cheshire.
In Crewe, new build development has been expertly conducted by S.A Platt. For over 20 years, S.A. Platt has been creating a strong client base by undertaking professionally done building projects. If you are planning to build a new commercial property or a housing one, rest assured that you can rely on S.A. Platt for all of your work. Recently, before a client actually hired the company to take up the work, he asked them whether they are able to undertake any interior work as well. He was pleased to know that the company can do the roofing work, the plumbing and all the electrical works which need to be done. On top of that, should he need any special requirements, such as security measures or even energy efficiency schemes, the company is more than willing to be flexible and factor in these aspects. They are happy to help the client by designing and personalising the designs of the house to suit their individual needs.
To get the most from S.A. Platt regarding your new build development in Crewe, you can simply hire the company for the complete project. In this way, the company will worry about all the minute details and you can relax and focus on the bigger picture. Please note that the company employs only qualified individuals and you will find that all their works are insured, their contractors are approved, and all their tradesmen are fully qualified and directly employed by the company. For quality workmanship for new build development, contact S.A. Platt.