Consider Garage Conversions in Wilmslow
By: | Posted: | Garage Conversions, Builders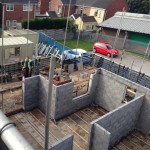 Garage conversions in Wilmslow are the solution for many people who need more space. Rather than building on an extension to your home, look into the option of converting your garage into an extra bedroom, den or office. It is likely to be less expensive than other options. It will be less complicated also. Converting the garage into needed living space will increase the value of your home and improve your living conditions at the same time. It is critical to hire a company with a solid reputation in the construction industry. This will be a major home project, so you want to make sure it is done with the highest quality workmanship and materials.
In Wilmslow, garage conversions are a lot easier than moving to a new location or doing without the extra space. When hiring a company to complete the project, look at their credentials first. S.A. Platt has one of the highest reputations in the industry. They are a family owned and operated business that has been in the construction industry for over 20 years. They have many satisfied clients. Some of them are schools and top housing organisations in the region. When converting your garage to an extra living space, S.A. Platt will advise you which types of flooring will work best for room's purpose. They will also help chose the best insulation, windows and doors, heating and cooling systems, plumbing and electrical system for your new addition.
Garage conversions in Wilmslow are not a new idea. People have been doing conversion for years, but now it is much easier with all the new technology available. S.A. Platt are happy to do a garage conversion. They claim that no job is too big or too small. For more information regarding a professionally done garage conversion, contact S.A. Platt.