Find the Best New Build Specialists in Manchester
By: | Posted: | Builders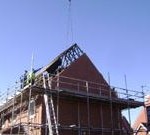 You want to work with the best new build specialists in Manchester to create a space that works exactly per your needs. S.A Platt has more than 20 years of experience and it is run by family, so you know that they take your needs seriously. They will work with you every step of the way so that you can be assured that the finished product will be exactly what you want and need. Their reputation for superior craftsmanship is unparalleled and they work with jobs of all sizes, so you can be confident that they can build your structure exactly to your specifications. They guarantee all of their work so you know that you will be happy throughout the entire process.
In Manchester, new build specialists will help you to create the home of your dreams and you want to work with a reputable company like S.A. Platt. This ensures that you are getting everything that you need and that you can trust the construction of your new home. You need a home that is high in quality and built exactly to your standards. This company guarantees that you will be happy with every aspect of your home. They have extensive experience in this area and know what it takes to create the perfect structure. They can also help with other structures and loft conversations, ensuring a comprehensive list of services.
S.A. Platt are high quality new build specialists in Manchester who are able to do the total job without any problems. They will come out and assess your property, provide you with all of the details and then get started with the work after you all agree on everything. You will never be left in the dark during the process because they want to make sure that you are getting every little detail that you want and need. Throughout the process, you can visit the property when it is safe so that you can personally see the progress. For the best new build specialists, contact S.A. Platt.